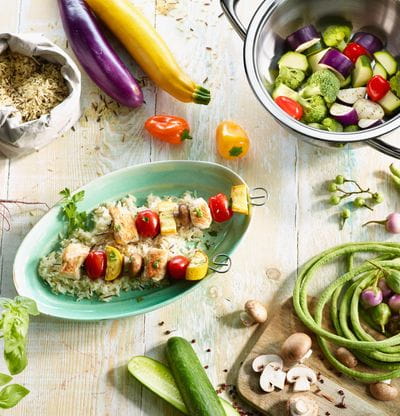 AMC Blog
Welcome to the AMC Blog! Here you will find exciting articles on topics such as cooking, food trends, health and lifestyle. Learn more about AMC and use our helpful tips & tricks. Also discover new delicious AMC recipes!
Tips & Tricks, Recipes
Let's go outside: Picnic recipes for a perfect outdoor meal
Summer, sunshine, everyone's in a good mood – it's the picnicking time of year again! In our newest article, you'll learn all sorts of tips for preparing a perfect picnic, alongside recipes that are suitable for eating outside sitting on the grass. We hope our recipe ideas inspire your next picnic!
08. July 2022
Sustainability
Sustainable cooking? Yes, we can!
To make our own kitchens as sustainable as possible has become a necessity. Clearly, these days, a sustainable lifestyle is highly sought after. The direction of this trend can also be seen in the latest food trends. At AMC, this is also a major concern, and we are being challenged to be more sustainable than ever. Find out now why sustainability is an important aspect.
27. May 2022
Seasonal, Family
Happy Easter! How to plan the perfect Easter brunch with your family
Want to invite your family over for a delicious Easter brunch, but don't know what dishes to impress them with? In our newest blog post we share our tips on how to plan the perfect Easter brunch and show you how to get kids involved in Easter decorating. And we're sure you'll find our recipe ideas for a delicious Easter brunch EGG-citing!
25. March 2022
Company
Steaming with AMC – why it's gentle, healthy and especially simple
Full steam ahead! To find out why it's worthwhile steaming your food more frequently, read on in our latest blog post. You'll also learn why the EasyQuick from AMC is the perfect steamer and pick up some direct inspiration from our delicious AMC recipes!
11. February 2022
Health, Recipes
The Power of Green Food – why green food should be on the menu every day
Green light for great health! In our newest post, you'll learn about the myriad ways green vegetables can be used in the kitchen, as well as why you should be eating more green produce. Green food isn't just extremely healthy, it also tastes great! We'll show you a few of the great "green" recipes you can prepare with AMC.
14. January 2022