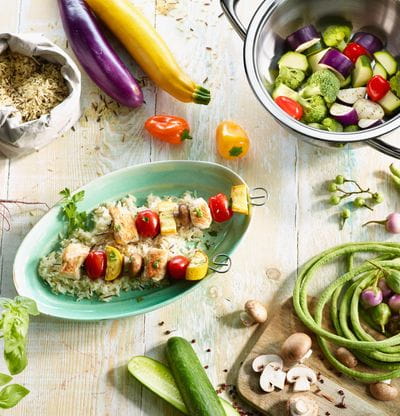 AMC Blog
Welcome to the AMC Blog! Here you will find exciting articles on topics such as cooking, food trends, health and lifestyle. Learn more about AMC and use our helpful tips & tricks. Also discover new delicious AMC recipes!
Health, Tips & Tricks
Small treats, big pleasure. How to snack healthily
No-shame snacking? Yep, there is such a thing! In our newest blog post we let you in on the secret of why you should give your body those little treats between meals. Which healthy snacks will get you best through the day? Read on to find out. And why not let our delicious recipe ideas inspire you to snack healthily?
01. September 2023
Health, Recipes
Good morning! A good breakfast for the perfect start to the day
What could be better than starting the day with a delicious breakfast? It is said that breakfast is the most important meal of the day. In our latest blog post, we reveal why a rich and balanced morning meal belongs in your daily routine.
01. August 2023
Seasonal, Tips & Tricks
License to grill – an authentic BBQ feeling all year round
Grill & chill: Summer is the perfect time for enjoying culinary highlights from the barbecue with family and friends. Find out in our latest blog how you can create delicious, perfectly grilled BBQ recipes even if you haven't got a barbecue of your own. These recipes will make the heart of any BBQ lover beat faster.
01. July 2023
Company
Cook & Go makes it easy to succeed – this is how you cook today!
Are you ready for a new all-in-one cooking experience? With the new Cook & Go app from AMC, you can cook simply, quickly, and guaranteed to succeed. Read this article to learn how our latest innovation can help you become a true gourmet chef. Ready, Set, Cook & Go!
21. May 2023
Family
Mom is the best! Beautiful surprises for Mother's Day
Happy Mother's Day! Who needs superheroines when we have moms? Learn why we celebrate Mother's Day and how you can give your mom a special treat in our latest blog post. Be inspired by our delicious recipe ideas for Mother's Day and create some culinary delights.
01. May 2023
Sustainability, Food Trends
Plant-based diets are trending — will our appetite for meat change?
We venture a look into the future: Will we still eat meat in the future? Will supermarkets only carry "plant-based food" instead of meat products soon? In our latest blog post, we dive into the topic of how meat consumption and the significance of meatless alternatives have developed. You'll also learn which delicious recipes you can make completely without meat!
01. March 2023
Seasonal, Recipes
Love is in the air…hearty recipe inspirations for the perfect Valentine's Day
They say that love goes through the stomach – and sweet delicacies are especially popular on the day of love. In our latest blog post, we share with you several irresistible recipes with which you can surprise your sweetheart on Valentine's Day. Dessert ideas that come from the heart!
01. February 2023