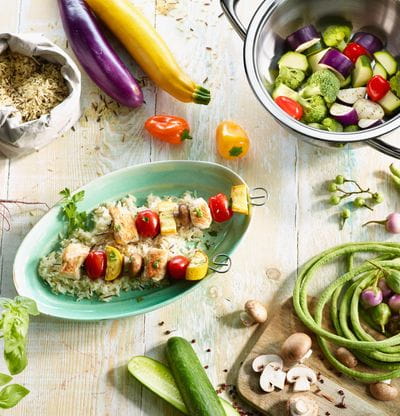 AMC Blog
Welcome to the AMC Blog! Here you will find exciting articles on topics such as cooking, food trends, health and lifestyle. Learn more about AMC and use our helpful tips & tricks. Also discover new delicious AMC recipes!
Seasonal, Recipes
Love is in the air…hearty recipe inspirations for the perfect Valentine's Day
They say that love goes through the stomach – and sweet delicacies are especially popular on the day of love. In our latest blog post, we share with you several irresistible recipes with which you can surprise your sweetheart on Valentine's Day. Dessert ideas that come from the heart!
01. February 2023
Seasonal, Recipes
Happy January! Wonderfully warming, tasty winter dishes for a good culinary start to the new year
Simple, healthy, hearty, veggie, and much more – there are a wealth of winter recipes perfect for cold days that you can prepare yourself at home, quickly and easily. In this latest blog post, we share with you some delicious inspiration for winter dishes that are sure to warm your body, heart, and soul!
01. January 2023
Seasonal, Family
Happy Easter! How to plan the perfect Easter brunch with your family
Want to invite your family over for a delicious Easter brunch, but don't know what dishes to impress them with? In our newest blog post we share our tips on how to plan the perfect Easter brunch and show you how to get kids involved in Easter decorating. And we're sure you'll find our recipe ideas for a delicious Easter brunch EGG-citing!
25. March 2022
Seasonal
Merry Christmas! Culinary inspirations for a perfect Christmas dinner
Christmas is just around the corner! Celebrating Christmas at home this year and want to impress your guests with a scrumptious Christmas dinner? Our recipe ideas are guaranteed to make your Christmas ho so festive and a culinary delight. In our latest blog post, you'll also find out which festive dishes are traditionally served up at Christmas in different European countries.
03. December 2021
Seasonal
Happy Halloween! Easy Halloween recipes with that spookiness factor
"Trick or treat"? It's that time of year again – Halloween will once again be celebrated on October 31. Read our latest blog post to learn about the origins of Halloween and find out where the pumpkin carving tradition came from. We'll also show you some scarily tasty yet easy Halloween recipes to help you prepare the perfect food for this festival of fear. Boo!
22. October 2021
Seasonal, Recipes
Colorful summer soups – here are some light and refreshing recipes to spoon out
Soups during the summer? That's right! Whether served hot or cold, even on summer days soups are a real treat. In this blog post we'll reveal why you should not only eat soups during the cold winter, but also in warmer temperatures. Our delicious and healthy summer soups serve up the right type of refreshment for your summer!
06. August 2021