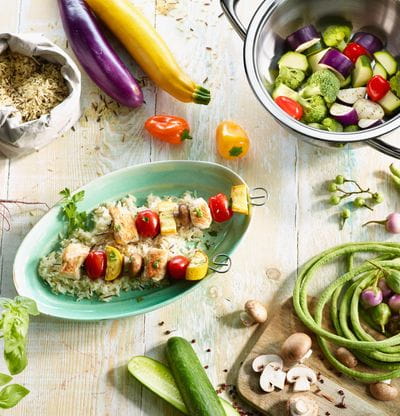 AMC Blog
Welcome to the AMC Blog! Here you will find exciting articles on topics such as cooking, food trends, health and lifestyle. Learn more about AMC and use our helpful tips & tricks. Also discover new delicious AMC recipes!
Seasonal
Merry Christmas! Culinary inspirations for a perfect Christmas dinner
Christmas is just around the corner! Celebrating Christmas at home this year and want to impress your guests with a scrumptious Christmas dinner? Our recipe ideas are guaranteed to make your Christmas ho so festive and a culinary delight. In our latest blog post, you'll also find out which festive dishes are traditionally served up at Christmas in different European countries.
03. December 2021
Recipes
Asian food: variety of flavors guaranteed
It's aromatic, varied, colorful and super delicious – Asian food enchants people all over the world. What are the typical spices and ingredients that make Asian food so special and why is it difficult to imagine Asian cuisine without the wok? In this blog post, you'll find out about delicious wok recipes that you can prepare at home. We are about to reveal the secret of this food's unique variety of flavors!
23. November 2021
Seasonal
Happy Halloween! Easy Halloween recipes with that spookiness factor
"Trick or treat"? It's that time of year again – Halloween will once again be celebrated on October 31. Read our latest blog post to learn about the origins of Halloween and find out where the pumpkin carving tradition came from. We'll also show you some scarily tasty yet easy Halloween recipes to help you prepare the perfect food for this festival of fear. Boo!
22. October 2021
Recipes
Mediterranean cuisine – a slice of sunshine to your home
So, you aren't ready for autumn just yet? Neither are we. Take a moment to look back at your last summer vacation in the paradise that is the Mediterranean, with its amazing food. Courtesy of selected herbs and spices, Mediterranean cuisine offers many true delicacies. Discover which Mediterranean dishes you can cook easily and quickly at home. It'll be like being there all over again!
07. October 2021
Health, Recipes
Easy gluten free – Eating without gluten
No grain, no pain – the gluten-free boom continues. You can now order gluten-free dishes in any restaurant. But what is gluten and what do people with gluten intolerance have to watch out for in their diet? Our latest blog article shows you which foods are suitable for a gluten-free diet and how to create delicious gluten-free recipes with AMC!
17. September 2021
Company
What does Smart Cooking really mean? Five truths that Europeans have in common
Can a smart and technologically innovative cooking be at the same time healthy and tasty? The answer is yes, thanks to the new AMC Smart Cooking System, a trusted ally for finding the right balance in the kitchen. And, according to our international research conducted across 3 key markets (Spain, Italy and Germany), Europeans have confirmed that cooking is really smart if it involves both technological innovations and the pleasure of enjoying flavors at their highest culinary expression. Let's discover together the 5 truths that Europeans have in common.
19. August 2021