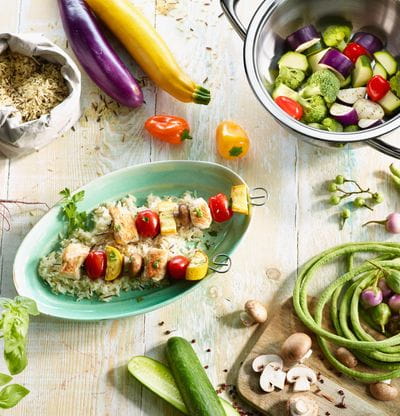 AMC Blog
Welcome to the AMC Blog! Here you will find exciting articles on topics such as cooking, food trends, health and lifestyle. Learn more about AMC and use our helpful tips & tricks. Also discover new delicious AMC recipes!
Seasonal, Recipes
Love is in the air…hearty recipe inspirations for the perfect Valentine's Day
They say that love goes through the stomach – and sweet delicacies are especially popular on the day of love. In our latest blog post, we share with you several irresistible recipes with which you can surprise your sweetheart on Valentine's Day. Dessert ideas that come from the heart!
01. February 2023
Seasonal, Recipes
Happy January! Wonderfully warming, tasty winter dishes for a good culinary start to the new year
Simple, healthy, hearty, veggie, and much more – there are a wealth of winter recipes perfect for cold days that you can prepare yourself at home, quickly and easily. In this latest blog post, we share with you some delicious inspiration for winter dishes that are sure to warm your body, heart, and soul!
01. January 2023
Tips & Tricks, Recipes
Let's go outside: Picnic recipes for a perfect outdoor meal
Summer, sunshine, everyone's in a good mood – it's the picnicking time of year again! In our newest article, you'll learn all sorts of tips for preparing a perfect picnic, alongside recipes that are suitable for eating outside sitting on the grass. We hope our recipe ideas inspire your next picnic!
08. July 2022
Health, Recipes
The Power of Green Food – why green food should be on the menu every day
Green light for great health! In our newest post, you'll learn about the myriad ways green vegetables can be used in the kitchen, as well as why you should be eating more green produce. Green food isn't just extremely healthy, it also tastes great! We'll show you a few of the great "green" recipes you can prepare with AMC.
14. January 2022
Recipes
Asian food: variety of flavors guaranteed
It's aromatic, varied, colorful and super delicious – Asian food enchants people all over the world. What are the typical spices and ingredients that make Asian food so special and why is it difficult to imagine Asian cuisine without the wok? In this blog post, you'll find out about delicious wok recipes that you can prepare at home. We are about to reveal the secret of this food's unique variety of flavors!
23. November 2021
Recipes
Mediterranean cuisine – a slice of sunshine to your home
So, you aren't ready for autumn just yet? Neither are we. Take a moment to look back at your last summer vacation in the paradise that is the Mediterranean, with its amazing food. Courtesy of selected herbs and spices, Mediterranean cuisine offers many true delicacies. Discover which Mediterranean dishes you can cook easily and quickly at home. It'll be like being there all over again!
07. October 2021