Aromatic rice stir-fry, fried noodle dishes, spicy curry sauces or even sushi – Asian food is known around the world and is considered as one of the most popular cuisines. Far Eastern cuisine has a lot to offer from a culinary perspective. Asia boasts an incredible culinary diversity. Its exotic aromas will transport you to far off horizons.
Typical national cuisines of the Asian world
Not all Asian food is the same. There are numerous national cuisines from the Far East that can be classified as Asian cuisine. Although each of them has its own regional specialties and recipe classics that make up the respective national cuisine, taken as a whole the various Asian national cuisines nevertheless have several characteristics in common.

Asian food is characterized by its fresh ingredients, herbs and spices. Whether steamed, fried, deep-fried or stewed – there are various methods of preparation to help you get the best out of the ingredients. Asian food is usually also spicy to very spicy and is richly seasoned with a variety of typical Asian spices. Rice is the core basic ingredient in most dishes. Unlike other cuisines, the frequent use of food fish and seafood is also characteristic of Asian food.

The following are considered important national cuisines from the Asian world:
Chinese cuisine
Japanese cuisine
Korean cuisine
Thai cuisine
Indian cuisine
Vietnamese cuisine
Indonesian cuisine
Philippine cuisine
We show you delicious recipe classics from some of Asia's national cuisines below.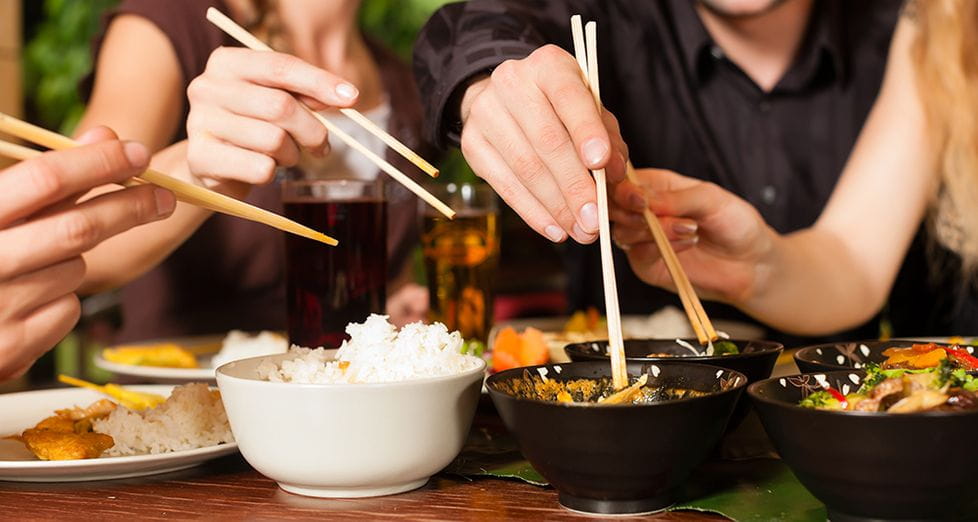 Asian food's colorful variety of flavors

Asian food is characterized by its wide variety of flavors and tasty spices. Far Eastern flavors are distinguished by much more than the fresh scent of coriander, the intense heat of red chili peppers or the spicy taste of ginger. Their special flavors and spices give Asian dishes that certain something.

Most people have ginger, coriander or turmeric in mind when referring to typical Asian flavors and spices. Although Asian cuisine's amazing diversity and many culinary features from East and Southeast Asia mean there is no single spice or flavor that is typical of Asian food, certain spice plants and herbs nevertheless give the dishes their typical Asian touch.

Turmeric: Dried turmeric (also called yellow ginger) tastes mildly spicy, slightly bitter and peppery. Turmeric is often used in Asian food because of its ability to add color. Whether freshly chopped or powdered, turmeric goes very well with meat and fish dishes as well as salad dressings.

Green pepper: In contrast to white or black pepper, green pepper is somewhat milder. Green pepper is used in many Asian country cuisines, especially in the preparation of soups. It is also often added to stews or dishes with fish.

Ginger: Ginger has a rather spicy and slightly lemony flavor. It is often used fresh or dried and ground, especially in Japanese and Indian dishes with chicken, lamb or seafood as well as in marinades and sauces.

Coriander: This herb is very often found in Asian food. Coriander has a very special flavor. To simplify, it is reminiscent of lemon ginger. Coriander is particularly popular in Thai cuisine. It is added to soups, salads and spice pastes and can even be eaten raw as a garnish.

Lemongrass: As its name suggests, this Asian herb has a lemony flavor. Lemongrass is very versatile. It is ideal for refining soups, salads or curry sauces. Coconut milk with lemongrass is a particularly delicious and aromatic combination.

You would also like to discover the diversity of Asian flavors and their unique aromas for cooking? AMC's Asian spices with its spice blends EXOTICA, RED DELIGHT and UMAMI will give your dishes that Asian magic you're looking for.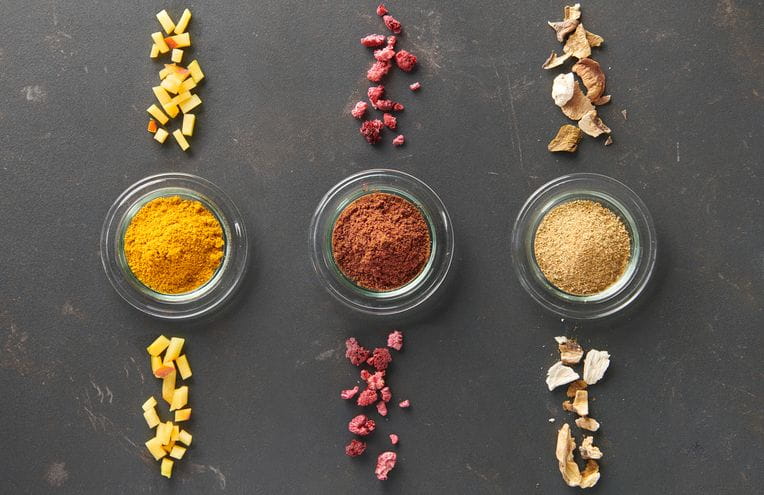 Wok 'n' roll! The Asian cuisine must-have
People often reach for a so-called wok to prepare Asian food easily and quickly. In Asian cuisine, the wok is one of the most important pans. But what makes the wok so unique?
The wok is suitable for a variety of cooking methods such as roasting, steaming, deep-frying, and much more. It is ideal for frying meat and fish because the hot frying zone is located in the lower part of the wok where high temperatures ensure the pieces of meat and fish cook thoroughly. Thanks to its spherical inner surface, the wok has neither edges nor a flat bottom on the inside, which enables stir-frying that is typical of a wok.

Our tip: The Wok 32 cm from AMC is perfect for all Asian food lovers who want to cook delicious wok recipes at home. The Wok 32 cm is suitable for various ways of preparing Asian food, whether for cooking rice and noodle dishes, curry sauces or steamed and crisply fried Asian dishes.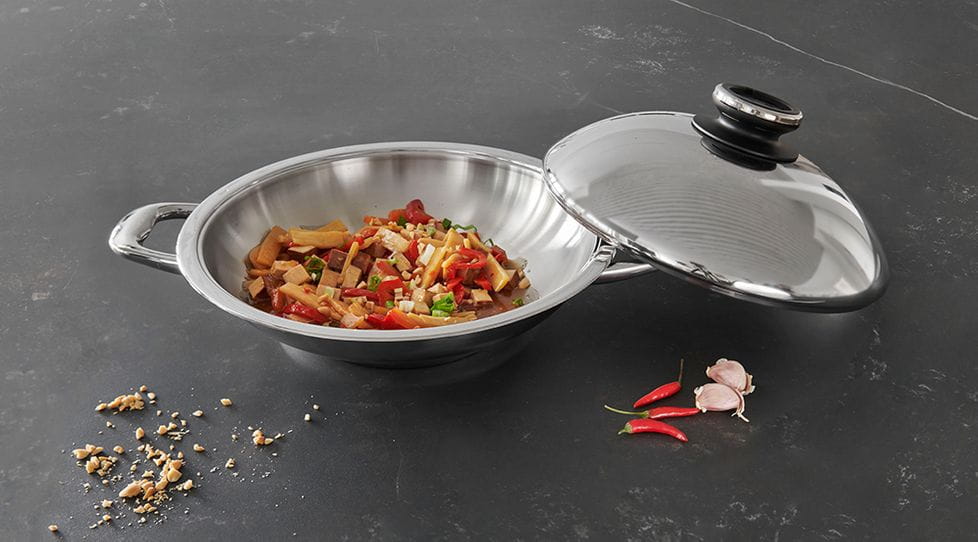 You love Asian cuisine and can't wait to discover new and unique flavors from the Far East? We have collected the best Asian food recipes for you in this chapter. Check out the exotic classics from China, Thailand and so on today and give the recipes a try on your own at home while you're at it!