Cooler temperatures, falling leaves, and the first autumn gales. And yet, in our imagination, are we still on our last summer vacation in the Mediterranean? It wasn't so long ago that we were still lying on the beach and enjoying that Mediterranean pizzazz accompanied by delicious food. Whatever you fancy – be it colorful Greek salads, delicious Italian pasta dishes, or the delights of Spanish tapas – Mediterranean food is truly special and loved by one and all!
The cultural choices in Mediterranean cuisine
Mediterranean cuisine is the collective term for the cuisines of the countries in the Mediterranean region. The Mediterranean's most popular cuisines include those of Italy, Spain, Greece, and Turkey. But Mediterranean cuisine also encompasses many other national cuisines, which is what gives Mediterranean food its variety and color.

Italian cuisine: Few other cuisines are as diverse as that of Italy. The characteristic features of the country's cuisine vary depending on which region you're in. However, the best-known national dishes are these: Antipasti, risotto, pizza and pasta. Mozzarella, parmesan and pecorino are dairy products that are frequently used in cooking. Vegetables such as tomatoes, olives, onion, garlic, eggplant, and zucchini are often found in Italian dishes. Saltimbocca and ossobuco are the most common meat dishes.

Spanish cuisine: Particularly popular Spanish dishes include tapas, gazpacho, and paella. Traditionally, tomatoes, pointed peppers, onion, garlic, eggplant, zucchini, and manchego are frequent ingredients in Spanish cuisine. Chorizo, jamon, baccala, gambas and mussels are popular meat and fish dishes.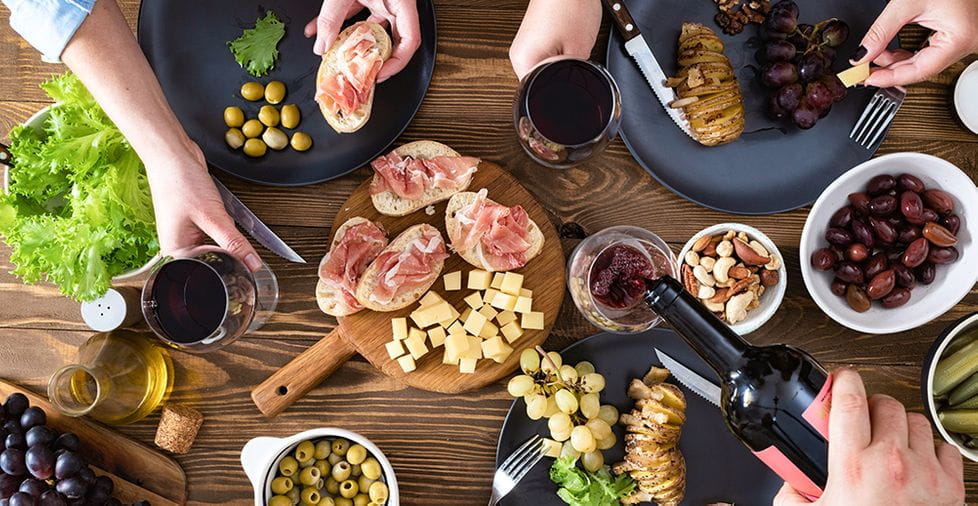 Greek cuisine: No dinner table spread in Greece would be complete without olives, bread, and wine. Served just as often are yoghurt or sheep's cheese. "Mesédes" is the name by which some well-known light bites are known in Greece. Typical national dishes include gyros and souvlaki. Vegetables such as tomatoes, cucumber, red onion, eggplant, and zucchini are very popular in Greece. Vine leaves or vegetables stuffed with rice are particularly delicious and popular, as are gyros, and souvlaki.

Turkish cuisine: A Turkish meal begins with various little treats, which go under the name of "meze". Probably the best known national dish is börek or gözleme, a filled savory pastry. Also very popular are rice and bulgur dishes or "pilafs". Turkish cuisine often involves vegetables such as pointed peppers, cabbage, and bamya (stewed okra). Sucuk (a sausage made of beef and lamb), lahmacun (Turkish pizza), and köfte (Turkish meatballs) may well also be known to some of you.

Healthy, healthier, mediterranean?
Mediterranean cuisine is characterized by a diverse and balanced range of foods. It involves a great deal of fresh fruit and vegetables, healthy fats, poultry, fish, and much more besides. The large quantity of fruit and fiber-rich vegetables, plus good fats from fish, nuts and olive oil, is another reason why the Mediterranean diet is considered particularly healthy and balanced. Vitamins C and E are present in abundance in fruit and vegetables, which are very important for our bodies and act as antioxidants.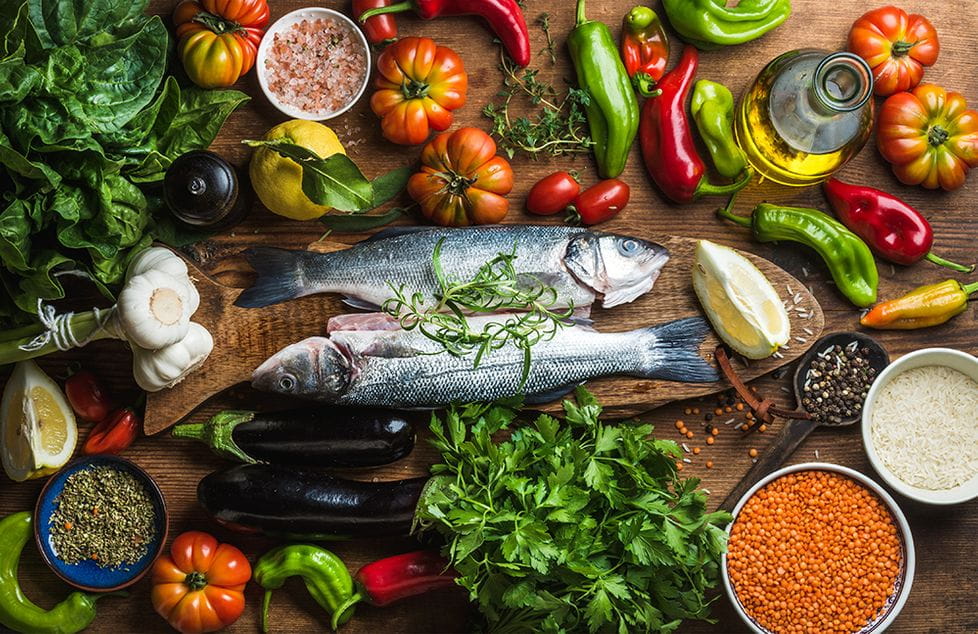 The basic foods used in Mediterranean cuisine are the following
Olive oil and olives
fresh vegetables such as tomatoes, bell pepper, zucchini, eggplant, etc.
Garlic, onion
Fish and seafood
white bread, pasta, and rice
Herbs and spices such as thyme, rosemary, oregano, basil, fennel bulb, caraway, chili, anise, and coriander
Herbs and spices are particularly important to Mediterranean cuisine and are the crucial ingredients behind the wonderful aromas of the dishes. In the next chapter you will discover which herbs and spices are especially important in Mediterranean cuisine.

The right herbs and spices for that Mediterranean touch
Mediterranean cuisine has a lot of flavors to offer – above all due to the abundant use of many herbs and spices. In Mediterranean cuisine, cooking often involves fresh herbs and tasty spices. Mediterranean herbs lend the food that special touch of southern lightness and joie de vivre.

These herbs and spices are often used in Mediterranean cuisine
Rosemary
Basil
Thyme
Oregano
Fennel seeds
Sage
Chili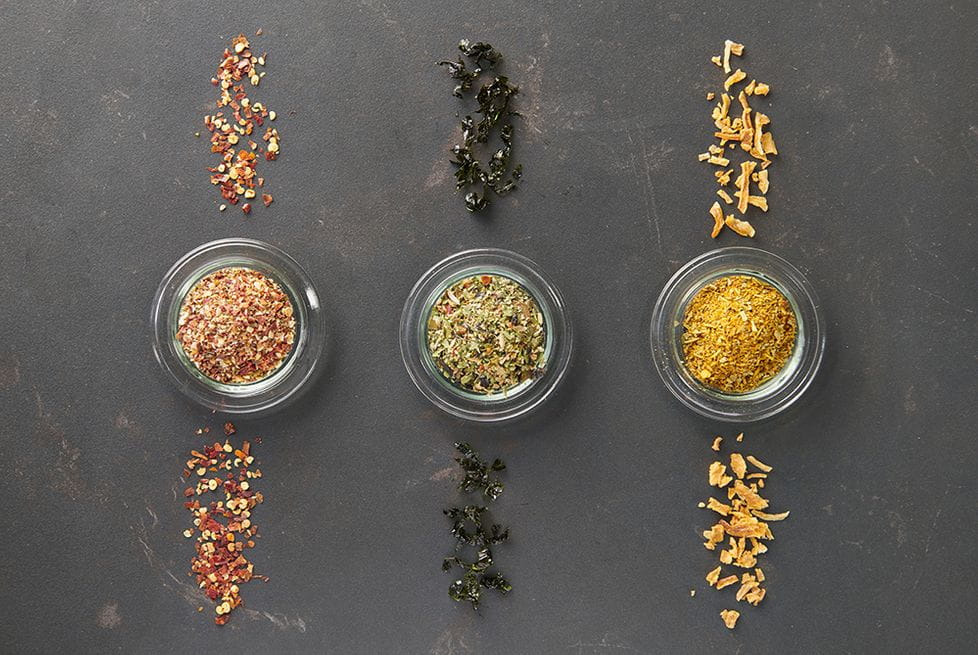 With the new AMC Mediterranean Trio spice set you'll be able to conjure up the Mediterranean in your very own kitchen, enriching your dishes with wonderful aromas. Whether it's spaghetti, focaccia or salmon fillet that you're preparing, with the Mediterranean Trio every dish will benefit from a hint of special flavor and that typical Mediterranean aroma. The Rustico, Maritim and Al' n Pep spices are must-haves for anyone who loves Mediterranean cuisine.

Mediterranean cuisine offers not just classic main meals, refined with the addition of aromatic herbs and spices, but also delicious snacks and hors d'oeuvres. In the next chapter, we'll show you some delightful recipe ideas to magic up that vacation feeling at home.

Mediterranean recipe ideas with guaranteed vacation feeling
Mediterranean cuisine is distinguished by its many colorful vegetables and fruits. The dishes are popular all over the world because they have so much to offer. It goes without saying that a Mediterranean dish will taste even better when you're on your summer vacation and enjoying views of the Mediterranean Sea, but, with our recipe ideas, you can also conjure up that lovely feeling of being on vacation even in your kitchen at home. In this chapter, we show you our favorite dishes from Mediterranean cuisine, which you can cook quickly and easily with AMC.

Salmon fillet with seasoned hollandaise

Try it now and enjoy! You can find the recipe here.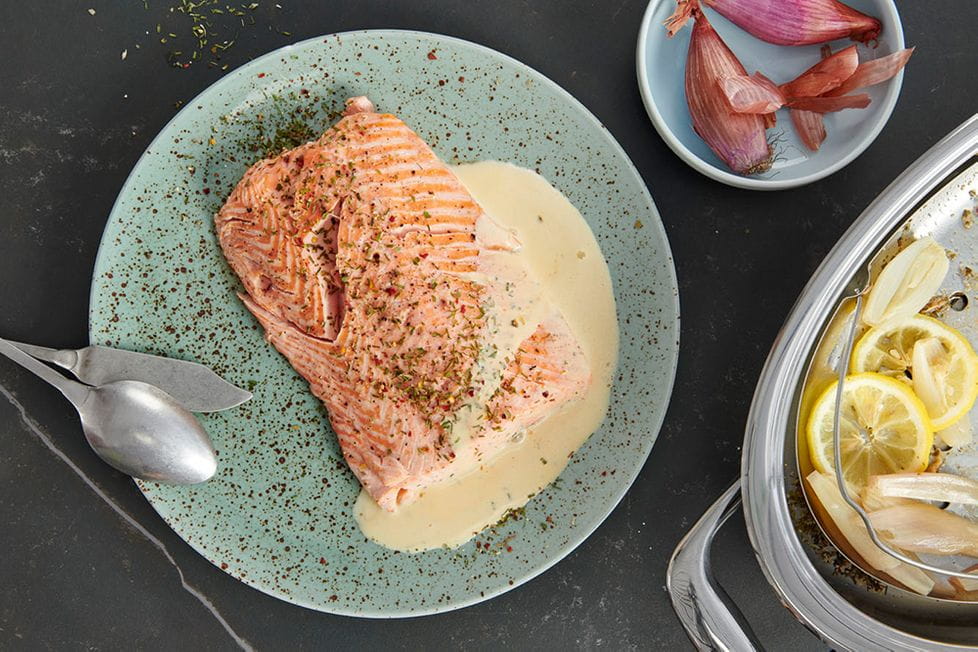 Seafood salad

You can find this delicious recipe here.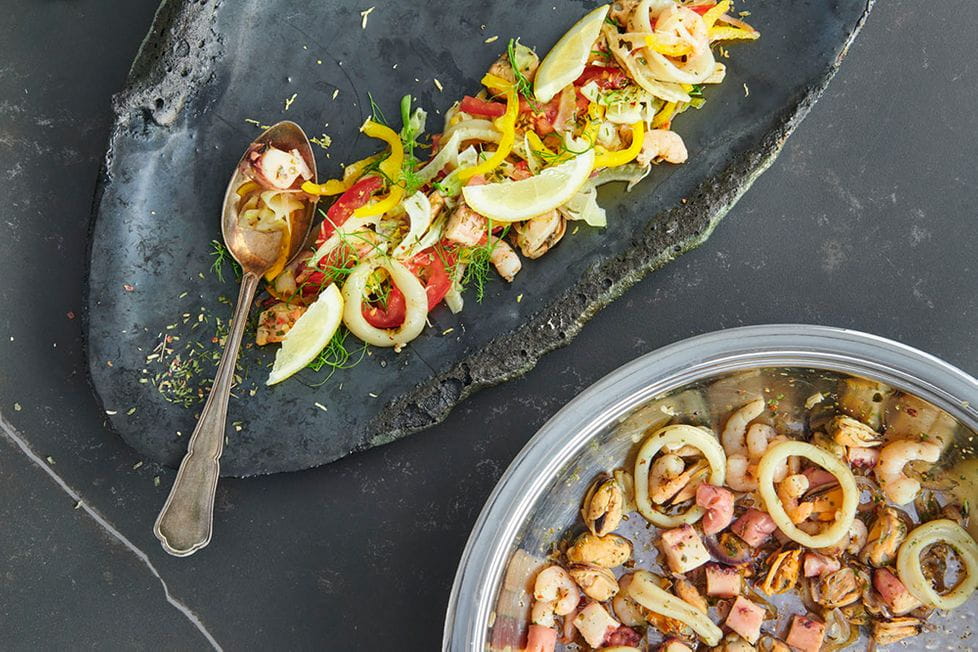 Focaccia

Click here for the recipe.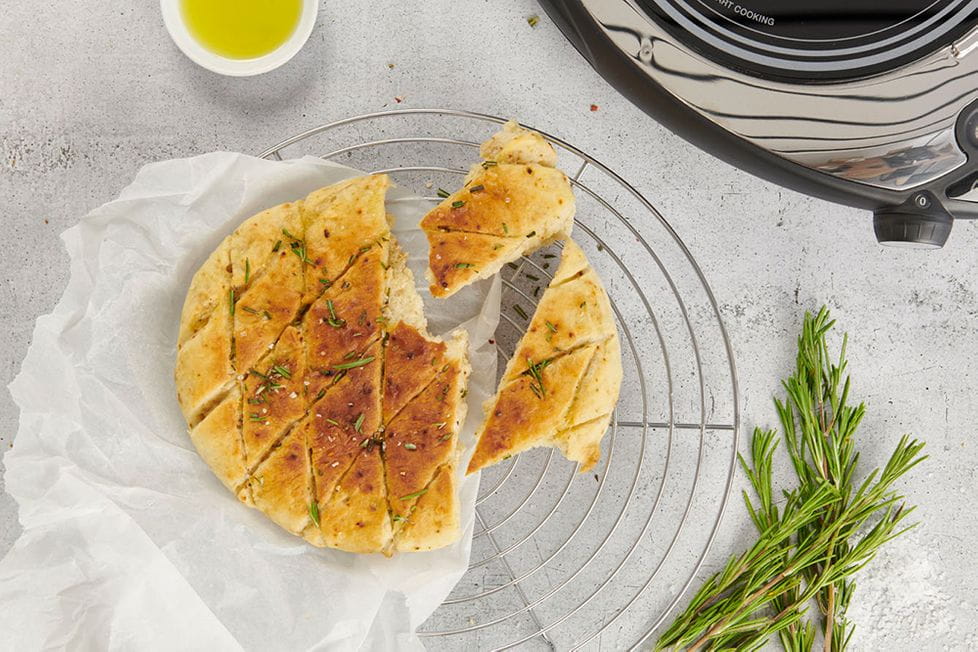 Chicken hunter style

The recipe for this great meat dish can be found here.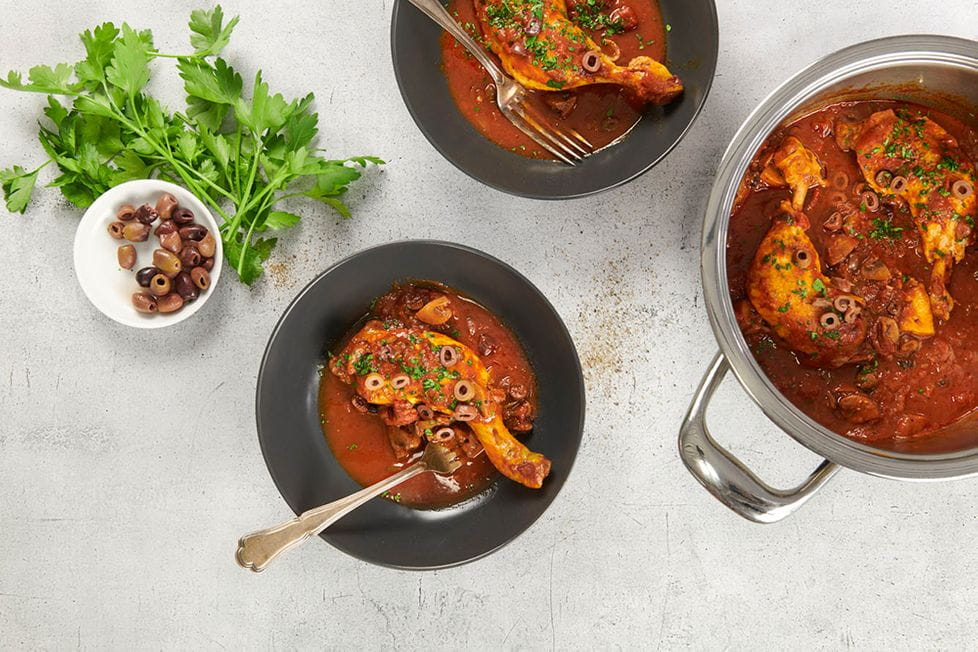 Rustico Bread

Try out this recipe now! Click here for the recipe.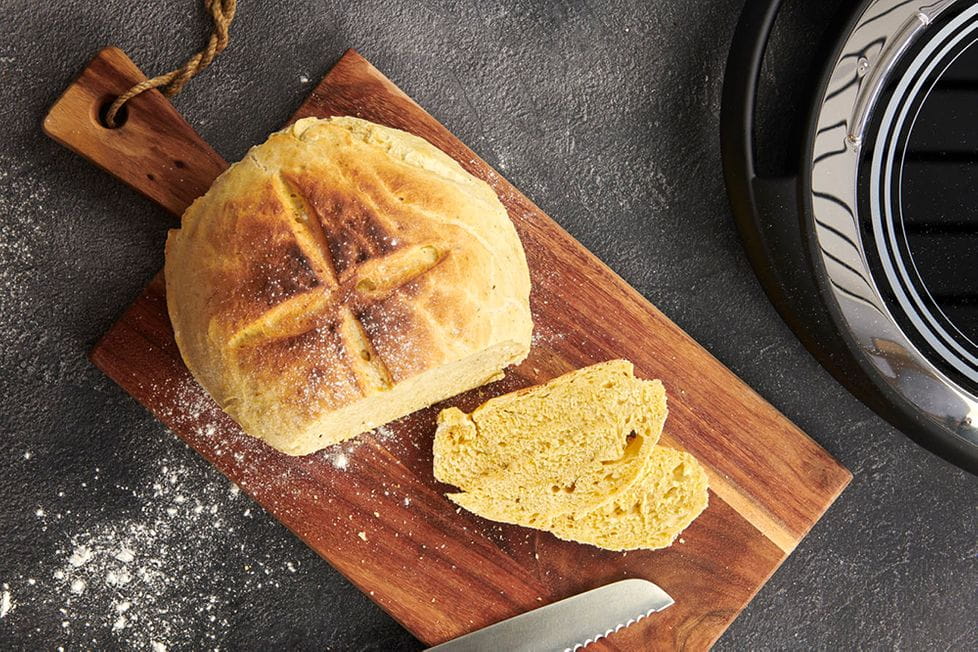 Parmesan cookies

To find out how to bake these delicious cookies, click here.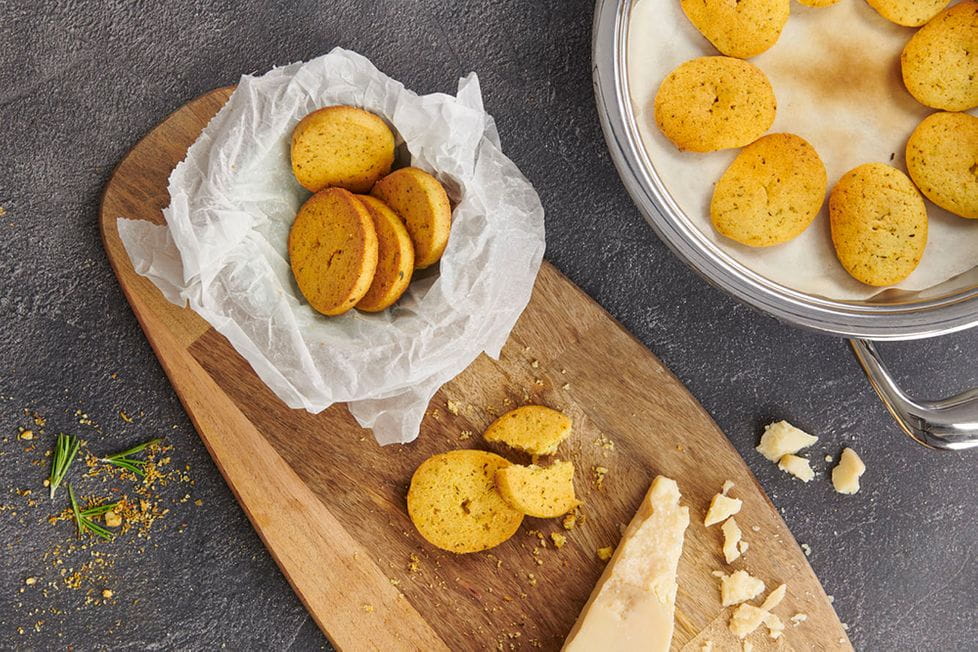 Find out for yourself, up close and personal, how you can prepare these delicious Mediterranean delights with AMC. Learn all about temperature- and time-controlled cooking with AMC and inspire the guests at your next party with home-made specialties from Mediterranean cuisine.