1. Sustainable shopping
Sustainability starts when we shop for food. In the following, we have compiled ideas for you to consider when shopping that will save resources and protect the environment:
Planning is everything
Before you head out to the shops, you should draw up a meal plan for the coming days – or better yet, the whole week. What would you like to cook? What and how much do you need to be able to do so? This helps you avoid buying food that goes uneaten and is ultimately thrown away. Furthermore, the less often you go shopping, the more time you can save.
Tip: In our recipe community, you can easily create a shopping list for all the recipes you want to cook. Simply click on the corresponding recipe and then click on "Shopping list" under the recipe photo. You can access your shopping list in your profile under "Shopping list" and find all the ingredients and quantities sorted by topic (e.g. vegetables, dairy products, or spices).
Clever transport and packaging
Always take your own shopping basket or bag with you when shopping. Your bag should be made of fabric, jute, or recyclable plastic so that you can use it over and over. This helps you use fewer disposable plastic and paper bags. And because you don't have to buy a new bag every time, you save money in the long run.

Plastic food packaging also significantly contributes to environmental pollution and so should be avoided where possible. Try to buy food that has either has no packaging or recyclable packaging. Fruit and vegetables can usually be bought unpacked. Instead of the usual disposable bags, it's also becoming increasingly common for supermarkets to sell reusable bags for fruit and vegetables. Also, the packaging-free shops mainly found in larger cities are a more recent trend. They allow you to weigh your food as needed and then fill it into the food containers you've brought along with you.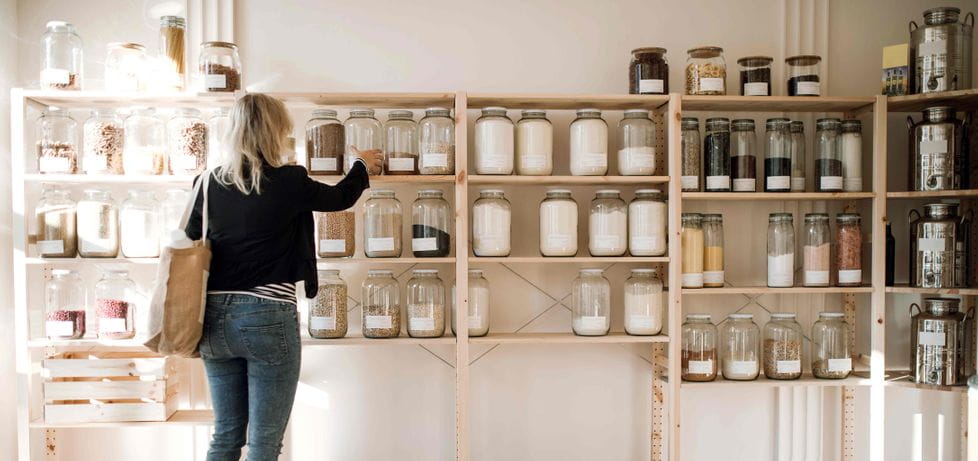 The region and the season
Shopping and eating "anything at anytime" is out. Responsible consumers are increasingly turning to seasonal and regional foods. Why, for example, bring grapes from Chile or tomatoes from Morocco to Europe when they're already grown in many places in Europe? Short transport routes not only save energy, but also protect the vitamins and nutrients in the food. After all, before embarking on their long journey, products that come from far away are often unripe when harvested. Regional products, on the other hand, can ripen in the field. The result? They're not only more nutritious, but often taste better. It's therefore worth visiting the weekly market in your area or stopping by the farm shop in the neighboring village.
Organic and fair trade
Organic food comes from organic farming, which largely forgoes any genetic engineering and chemically synthesized pesticides and fertilizers. The latter in particular jeopardize agricultural sustainability because they can cause long-term damage to the soil and have a negative impact on the environment. In the supermarket, you will find various organic seals that help you to recognize which foods are classified as "organic." But look out: Not every organic label complies with the same guidelines. Go online to find out which organic labels stand for what. This will help assure you that your food comes from sustainable organic farming.
Fair trade is also part of sustainability. To strengthen the economy in certain regions in the long term, farmers, harvesters, and factory workers must be fairly paid and allowed to work under dignified conditions. Fair trade seals help you determine which companies produce their products accordingly.
Tip: With our AMC seasonal calendar, you can always find out when specific fruits and vegetables are available. If you want to cook with seasonally available ingredients, all you have to do is click on the "Seasonal recipes" sub-category in our "Recipe" tab to find the right recipe for every season.

2. Sustainable cooking
Once you have everything you need for cooking, you can start prepping.
Did you know that when cooking with AMC you can easily make your own sustainable contribution and use up to 50% less energy? Cooking with our products is so environmentally friendly because of their innovative qualities:
The closed water system
Our pots and pans are based on a closed air circulation system that operates between the base of the pot, the cold wall zone, and the lid. When our pots and pan are heated, steam rises. Upon reaching the lid and walls, it cools and drips down to be heated again. Thanks to this system, no additional water is needed during cooking and no additional fat is necessary when frying with the lid closed. These cooking and frying methods can not only considerably reduce the amount of water and cooking fat involved, but they're also particularly gentle. This means that your dishes contain up to 50% more vitamins and nutrients than conventionally prepared foods.
Temperature and time under control
A major environmental factor in cooking is the amount of energy that the heating uses up. When boiling, frying or baking food, it's common for a lot of energy to be wasted because the temperature is too high or the cooking time runs too long. That's why we've developed a cooking system that makes it easy to always apply the right temperature and cooking time to every dish.
So how does that work? It's really simple: In the lid knob of our pots and pans you will find our "Visiotherm" temperature indicator. It not only tells you how hot it is in the pot at any given time, but also which temperature is best for which cooking method.
Things get even easier if you use the "Audiotherm" acoustic signaler. Simply place it on the Visiotherm, switch it on and set the right program for your dish. You'll no longer have to look at the Visiotherm, but instead will called over by the Audiotherm when you need to adjust the stove temperature or switch it off. This means that the exact amount of heat that is needed is always consumed during cooking, saving you both time and energy all at once.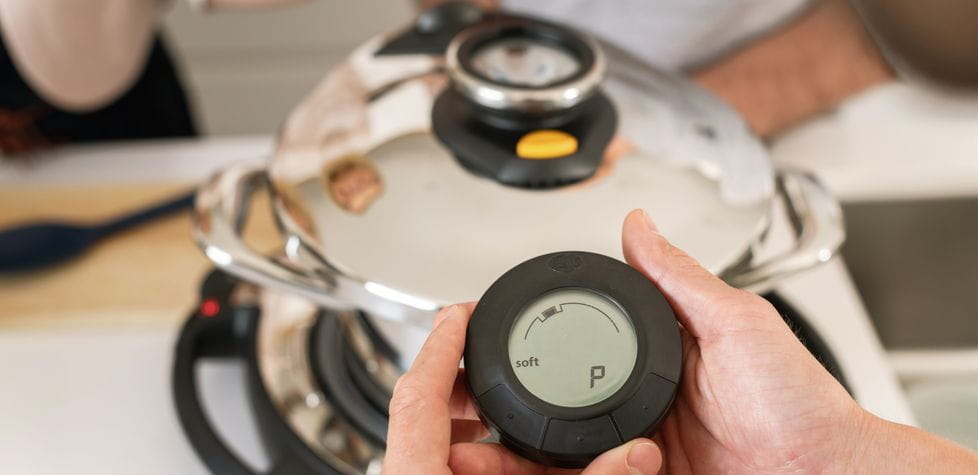 The most sustainable way to cook is to incorporate the "Navigenio" mobile hotplate as well. You can wirelessly connect the Navigenio to the Audiotherm so that they both work together as a team: The Navigenio increases or reduces the energy supply depending on the selected cooking program and switches off automatically when the cooking time is complete. Plus, if you place the Navigenio upside down on an AMC pot, you have a small oven where you can bake pizza, bread, cakes, or crispy casseroles in no time. Preheating a standard commercial oven consumes considerably more energy due to its large volume; baking above in the AMC pot is therefore much more ecological.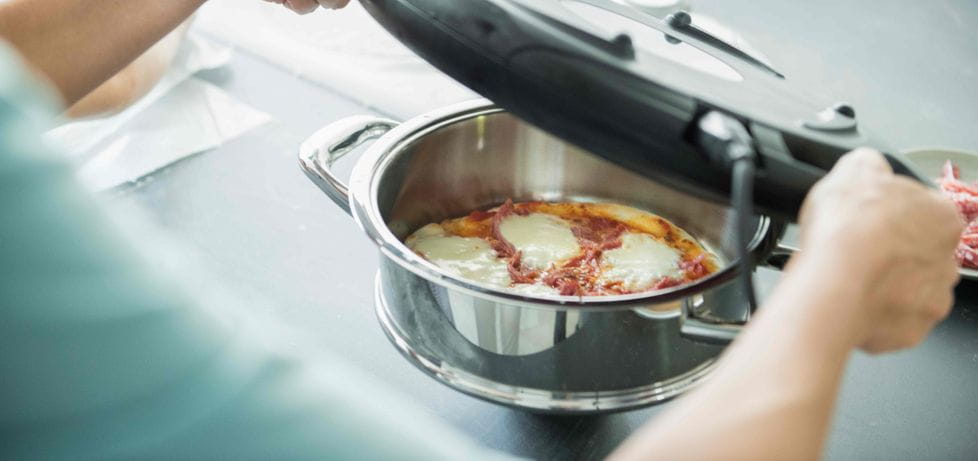 Longevity instead of disposable consumption
Cooking isn't just about the "how" – the "with what" factor also plays a role. Pushing against the trend of a throw-away society, it is becoming increasingly popular again to invest in high-quality consumer goods that do not have to be replaced every few years. We, too, have committed ourselves to product durability: All our pots and pans are made of extremely durable premium stainless steel to last a lifetime. This is why all our pots and pans come with a 30-year guarantee.
Tip: Would you also like to save more time, energy, and raw materials when cooking and prepare more nutritious, vitamin-rich dishes – but don't have any AMC products in your kitchen yet? Book your personal, non-binding AMC Cooking Show now to experience how it all works in a live setting. Curious? Go here to make it happen!

3. After the meal
Even after the meal, there are a few additional points to consider that will help you protect the environment.
Using leftovers correctly
Did you accidentally cook too much? No problem! Place your leftovers in an airtight container and put them in the fridge. Gently warmed, they often taste just as good the next day. If you want to put a meal in a lidless container and then in the refrigerator, you don't need to reach for the cellophane. Beeswax wraps, which you can easily place over your containers, have been on the market for a while now. These not only contain no plastic but are also washable and reusable. Alternatively, you can also freeze your food and eat it again at an even later date.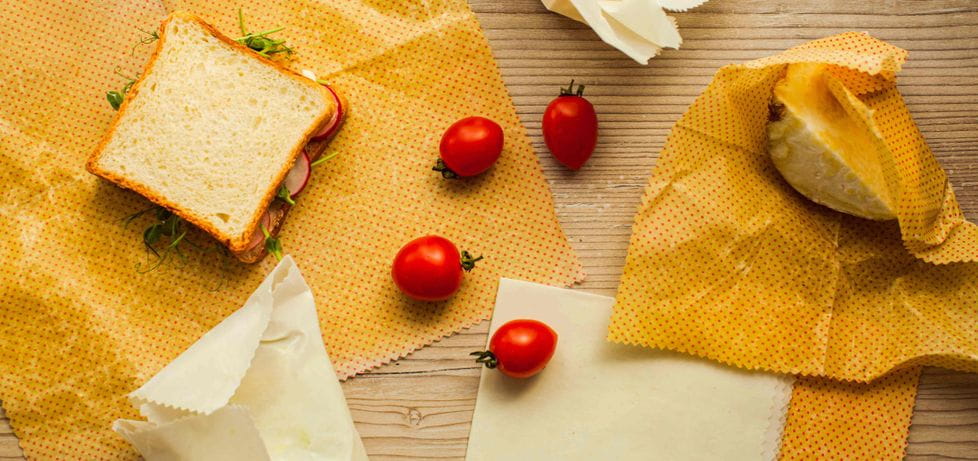 Don't feel like eating the same thing twice? We have a solution for this too: In another blog post we described how you can always whip up new dishes from pasta, potatoes, or rice with just a few steps and ingredients. The article can be found here here!
Dishwasher or hand-wash?
If you have a lot of dirty dishes and cutlery, you should wash them in the dishwasher and not by hand. This often saves not only time, but also water. For example, a comparative study by the University of Bonn shows that machine washing requires up to 50% less water and up to 28% less energy than washing by hand.
By the way, did you know that all our stainless steel products are dishwasher-safe? This means you can also conveniently wash your AMC pots and pans in the dishwasher. Please note: If you want to wash lids in the dishwasher, please unscrew the Visiotherm beforehand. The same applies to the handle of the oPan.
We hope that with this article we have been able to give you some ideas about sustainability in the kitchen. Do you have any additional tips on how to shop, cook, and eat in a more environmentally conscious manner? Then share your ideas with our AMC experts and other community users in our forum!