The sweet smell of cinnamon, tangerines, and freshly baked gingerbread. Christmas songs run up and down on the radio. A new door to open on the Advent calendar every morning. It's Advent time again! For many, the most wonderful time of the year. The anticipation of a joyful Christmas with loved ones grows with each and every day. Although the build-up to Christmas is wonderful, with all its shine and sparkle, customs and traditions, the preparations for Christmas itself involve sometimes a great deal of stress and planning.


Good planning is half the battler

Buying gifts for your loved ones, making Christmas cookies with the kids, and decorating your home for Christmas – it's the same challenge in the run-up to Christmas every year, with preparations for the big day starting in Advent. The desire for everything to be "just right" for an enjoyable, relaxing Christmas with the family is the same for everyone. Probably one of the most important tasks on the to-do list is planning the perfect Christmas dinner. A feat of a culinary feast, a traditional Christmas dinner to impress all your guests on Christmas Day. After all, you want everyone to tuck in and enjoy!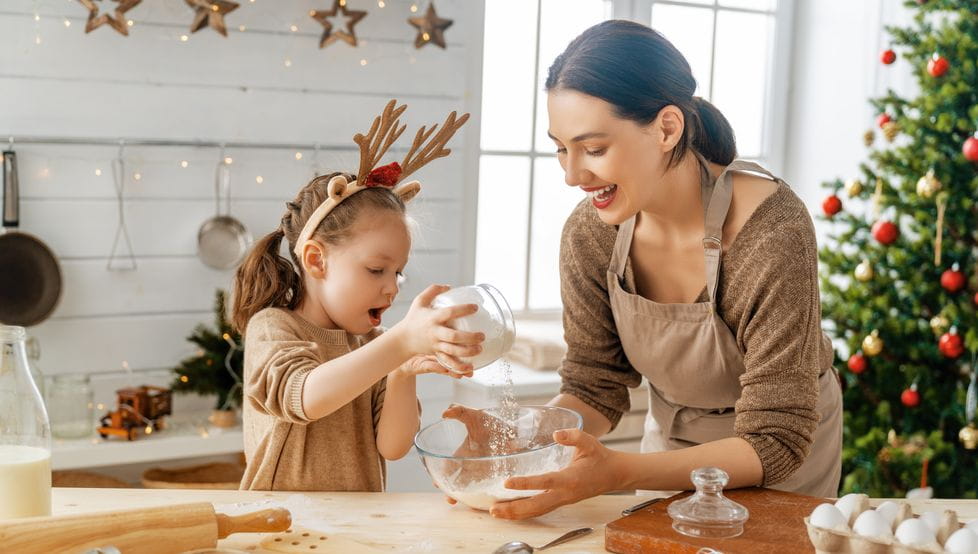 But instead of the traditional Christmas meal, why not get creative and serve up a delicious alternative dish or two? You could also ask your loved ones to help you come up with some ideas! You don't need to always have the same-old traditional Christmas roast or goose. How about an Asian dish as the starter on your Christmas Day menu for a change? Instead of cooking the same things as every year, why not cook up something a bit different, yet equally scrumptious to celebrate the festive day?

But before we share with you our delicious recipe ideas for the perfect Christmas dinner, we want to tell you about some of the different Christmas culinary traditions in Europe.


Festiv indulgence in Europe


What is traditionally eaten at Christmastime in Spain, Germany, England, and Italy? Do these culinary customs still exist on the 'feast of love' today? We'll tell you which delicious festive dishes are prepared at Christmas around Europe.

Germany: On Christmas Eve, dishes such as stew or sausages with potato salad are traditionally eaten. Goose and carp are both popular for Christmas throughout Germany, although raclette and fondue are also traditional German Christmas dinners.

Spain: Christmas dinner is somewhat different in southern European countries. In Spain, it features several courses, starting with hot and cold appetizers such as salads, ham, and olives. The first and second courses follow, with soups and meat, fish, and seafood dishes. Lamb, turkey, fried fish, and oysters are all typical Spanish dishes for a fabulous festive feast.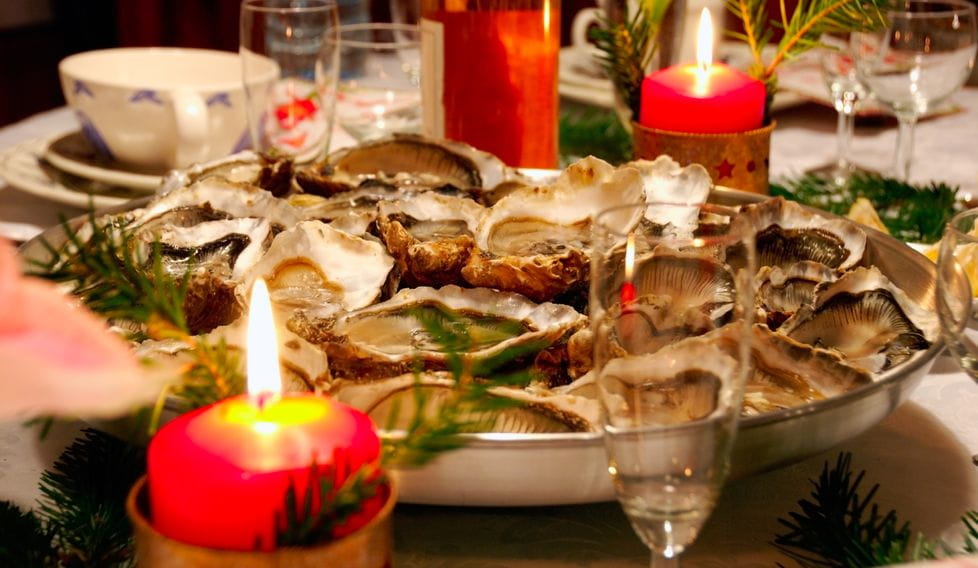 Italy: Traditionally, no meat is eaten on Christmas Eve in Italy. Instead, various different seafood dishes are served. 'Spaghetti alle vongole' (with clams), cooked in a delicious white wine sauce, is particularly popular. At Christmas, Italians like to give their palates a feast of contrasts, with tasty meaty dishes and aromatic cheeses.

Sweden: In Sweden, the 'Julbord' (Christmas buffet) is piled high with Christmas delicacies. It goes without saying that fish makes an appearance: salmon prepared in a variety of ways such as graved salmon, pickled herring, and preserved cod (lutfisk). The culinary highlight of the Julbord, however, is the Christmas ham (julskinka). Side dishes such as green cabbage, red cabbage, potatoes, and stuffed eggs are served to accompany the ham. Another typical Swedish dish is 'Janssons Frestelse', a creamy potato and anchovy gratin.

England: Christmas dinner in England is a particularly sumptuous affair and traditionally consists of turkey (or chicken), potatoes, Brussels sprouts, and carrots, with gravy and accompanying sauces.

Croatia: In Croatia, too, fish like salted cod (bakalar) or a delicious fish soup is eaten on Christmas Eve. On Christmas Day, cabbage rolls are served with meat and rice (sarma) or meat such as suckling pig or lamb.

Traditional Christmas dinners reflect the colorful diversity of European cultures. You now know more about the culinary traditions of some European countries, but still don't have any actual ideas of what to make for your own Christmas dinner? Read on and we'll share some ideas to help you get started.


The perfect Christmas dinner

Hosting Christmas this year? But still don't know what to make for a Christmas dinner to impress your loved ones? Then look no further! We've got some great, tasty recipes for you, to make sure your Christmas dinner shines with success.

With Christmas just a few weeks away, it's time to start thinking about what you want to serve your guests on Christmas Day. You'll need to plan and prepare your Christmas meal well if you want to conjure up a delightful culinary delight this Christmas. Whether you're planning a meat-based, fish-based, or vegetarian Christmas dinner, we've got some fantastic, exquisitely fragrant and festive recipe ideas for you. How about an exceptionally tender roast fillet of pork with cava and grapes? Or, instead of a traditional meat dish, how about impressing your guests with a salmon fillet served on a bed of orange and fennel?

Our tip: The Oval Griddle from AMC is great for preparing meals for large numbers of people. This oval roasting pan is the perfect cooking pot for preparing a deliciously festive Christmas meal. The oval shape of this large cooking pot makes it versatile and ideal for cooking large pieces of meat or whole fish. Or would you rather make a delicious spaghetti dish for your Christmas dinner? The Oval Roaster is perfect for this, too!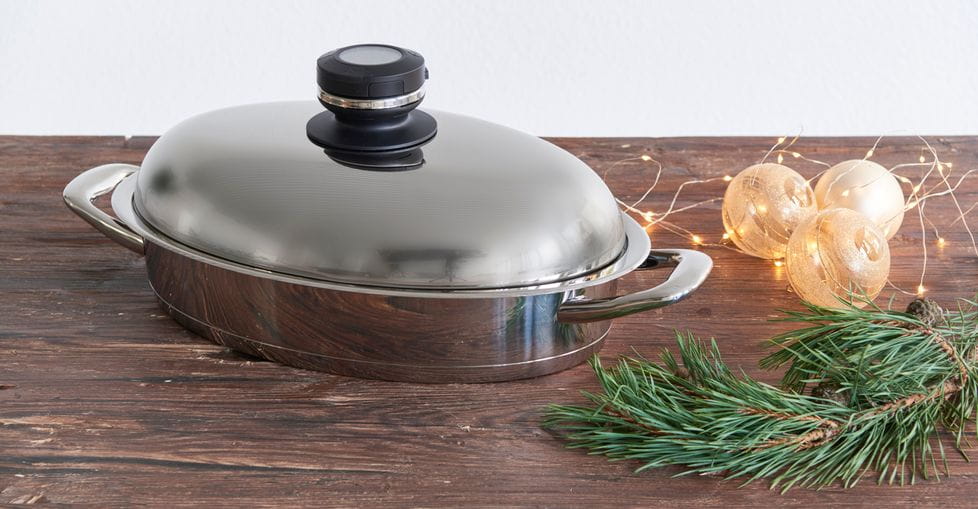 Quick, easy, and deliciously Christmassy: Below, we've compiled some delicious AMC recipe ideas for a Christmas dinner to remember. Our recipes are guaranteed to make your Christmas the perfect Christmas for all the family. Make Christmas special with our recipe ideas. Get inspired and give your guests a real Christmas treat for the taste buds!

We wish you and your loved ones a peaceful Advent and a very merry Christmas!