Did you know that traditional cooking with gas typically accounts for over 10% of energy demand in many homes? Seems incredible (it's just a "small fire" below your pot), yet this is true! When boiling, baking or frying in conventional ways, a lot of energy goes simply wasted: the temperature is too high, the cooking time – too long, and sometimes the post is not covered with a lid.

So, now that the energy-saving tricks and behaviours worth its weight in gold, we at AMC know how to let you cut on those exaggerated energy spendings: thanks to our efficient cooking methods powered by AMC Premium innovations.

AMC's controlled smart cooking is indeed your #1 kitchen ally: our quick cooking lid Secuquick softline can transform pots into pressure cookers, and paired with our much-loved mobile cooking plate Navigenio, this is a solution to win over your energy-conscious heart!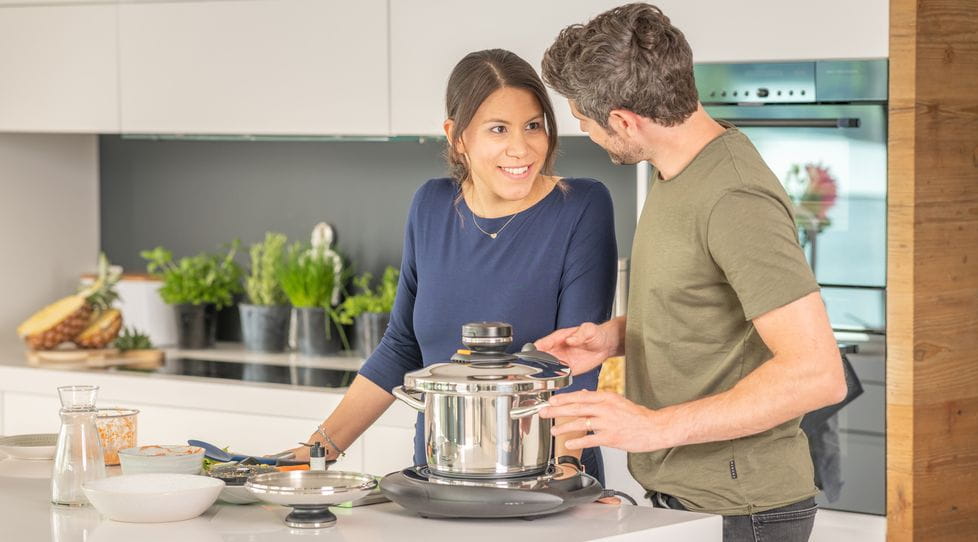 Saving up to more than 70% of energy while cooking: AMC says "yes"

Reducing energy waste and cooking more efficiently? Say no more!

AMC Secuquick softline lid lets the dishes be ready very quickly – this saves a lot of energy. In combination with Navigenio and the acoustic control Audiotherm, not only is the cooking time reduced by up to 80%, but only as much energy is supplied as is really necessary. That sounds like a great deal! All that ensuring your meals turn out delicious and full of vitamins.

Even if your cooking creativity leads you to preparing beef goulash or an Italian risotto (spoiler alert: both traditionally very time-consuming to cook!), with AMC any dish is good to serve in no time. And therefore with less energy used! Just see for yourself:

The most recent tests by TÜV Rheinland prove: by using Secuquick softline solely you can save up to 45% energy compared to traditional cooking with no pressure cooker.

Our mobile hotplate Navigenio is just as impressive: using it as your heating source you save up to more than 50% energy compared to cooking on gas.

The striking difference comes when the two are put together in a powerful synergy. With Secuquick AND Navigenio you will save up to >70% energy compared to traditional cooking (without a pressure cooker) with gas.
AMC has always stood for the 'Eat Better. Live Better' mission. And there is no better way to realize it other than cooking with preserved taste, fulfilled healthiness… and impressive energy-saving at the heart of the culinary process.
Would you like to learn more about our AMC products and our resource-efficient cooking methods? You can book your personal AMC Cooking Show under no obligation and experience live how sustainable, energy-saving cooking with AMC works. Book your cooking show.