Sustainability and our products

A key feature for achieving product sustainability is a longer shelf life. At AMC too we stress longevity. All AMC pots and pans are made of high-quality and extremely durable premium stainless steel and will last a lifetime. When you buy an AMC product, it will stay with you. We believe in the quality of our pots and pans so firmly that we offer a 30-year warranty on all of them. That commits us to creating long-term value for you.

Did you know that you can achieve energy savings of up to 50% when using our products? How that works we'll show you in the next section.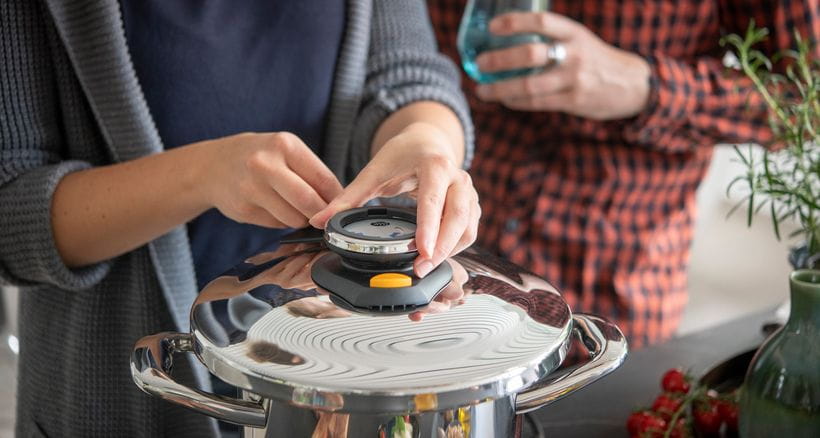 Sustainability in our cooking methods

We all share the same desire for less food waste, more efficient cooking and healthy eating. But for cooking to be sustainable, we need efficient cooking methods. Conventional cooking and frying often use a lot of energy, either because the temperature is too high or the cooking time is too long. We enable you to cook in a healthy and sustainable way without trying too hard.
Saving water, energy and time with AMC
The Audiotherm acoustic control, together with the Visiotherm temperature indicator, enable temperature- and time-controlled cooking. Together, Audiotherm and the mobile cooking plate Navigenio make a perfect duo for controlled cooking. The temperature inside the pot is precisely monitored, and at the same the Audiotherm and Navigenio constantly communicate to regulate the energy supply as needed. This means that only the energy actually needed is used, which saves both time and resources.
The innovative sealed air-circulation system from AMC is a technological milestone: The heat at the bottom drives steam to the top of the pot. Reaching the lid and walls, the steam cools and drips down to be heated again. This system allows vegetables to be cooked with no added water. Through this method, up to 50% more vitamins and minerals are preserved, less water is used, and the natural flavor of the food is enhanced – plus you save raw materials.

Cooking with the Secuquick Softline is also sustainable. The quick cooking lid converts all pots from AMC into quick cooker. With the Turbo quick cooking program you can save up to 80% of the time needed , which helps cut back significantly on the energy used. The steaming lid EasyQuick, on the other hand, is a lid that allows more delicate foods to be steamed in all AMC pots at below 100 °C. This way you not only cut time spent and energy used by up to 50%, but you also preserve vitamins and nutritional values, which in turn decreases the need to add extra condiments.

Baking and gratinating with the mobile cooking plate Navigenio is likewise highly energy-efficient. The Navigenio can easily be used as a small oven. The heat builds up quickly and in only a small space, which uses much less energy and so costs you less than an ordinary baking oven.
Would you like to get to know more about our AMC products and cooking methods to let you save more resources when cooking? You can book your personal AMC Cooking Show under no obligation and experience live how sustainable cooking with AMC works.
Sustainability in our recipe development

In planning and crafting our recipes we also place great emphasis on sustainability. In developing the recipes, we constantly look for ways to incorporate seasonality of foods. Which fruits and vegetables are in season and when? We want to encourage you to buy and cook as regionally and seasonally as possible.

Social networks show clearly where the trend is headed: The demand for seasonal as well as vegetarian and vegan recipes is going up. We eat every day, of course, and what we eat can have a significant impact on the environment.

Meat consumption has gone up in recent years, which is affecting the environment ever more negatively. In most countries in Europe, meat consumption has generally fallen. All the same, it would be a good thing if this decline could continue. Today there are more and more meat alternatives from soy and other plants. You don't have to eat meat every day, and you should also make sure that you have a sufficiently varied diet. To minimize the Co2 footprint, the share of plant-based foods in cooking should be much higher than that of animal-based foods. That's why we at AMC spend a lot of time and effort developing tasty recipes without meat, to inspire you to cook sustainably.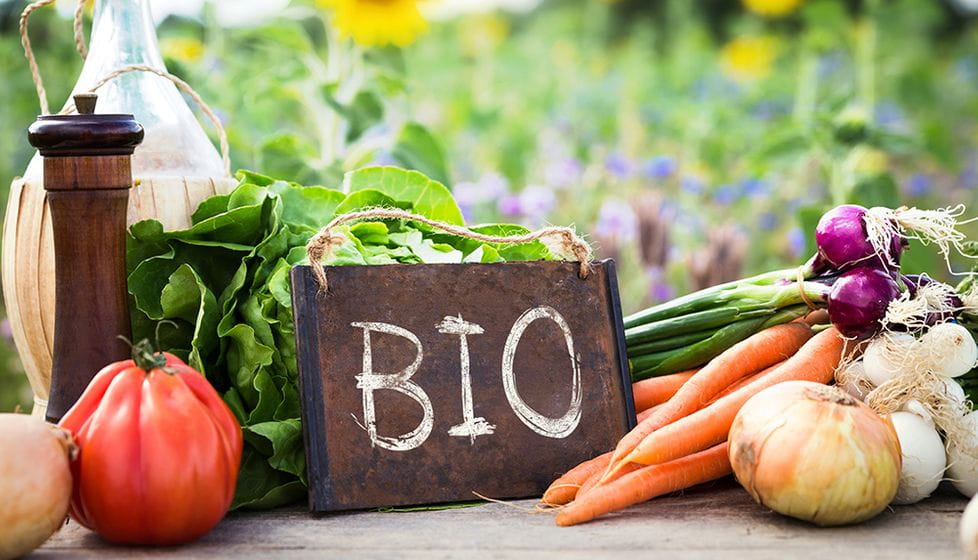 More environmentally conscious cooking plays an important part in contributing to sustainability. With our AMC recipes we want to be a good role model and show what delicious, versatile and seasonal dishes can be conjured up with AMC.
The BBQ season is already in full swing. To help you inspire your guests at your next barbecue party with delicious meatless dishes, we have put together some great recipe ideas for you. Get inspired by our veggie recipes below! You can discover more tasty vegetarian or vegan recipes in our recipe community.