Tip No. 1: Multitasking Saves Time
Whenever possible, try to wash everything you don't need anymore while you're cooking. This is especially doable for longer cooking and baking sessions. Is the cake already baking? Then it's the perfect time to rinse the mixing bowl and dough hook. The stew needs to cook for half an hour? Great, then you can start cleaning the knife, cutting board, and so on. This way, when you're done cooking you'll already have done most of the dishes—and won't have to wash so many after dinner.
By the way: Did you know that the AMC cooking system allows you to cook in a temperature- and time-controlled manner? In addition to an AMC pot, all you need is the Audiotherm acoustic signal transmitter. Its display shows you the temperature range and remaining cooking time. Using acoustic signals, it also lets you know when you need to change the temperature or when the cooking time is over. Cooking gets even more comfortable when you connect the Audiotherm with the Navigenio mobile hotplate via Bluetooth. They can communicate with each other and automatically control the energy input; you no longer need to adjust the temperature yourself. This gives you an opportunity to do other things—like the dishes—in the meantime!

Tip No. 2: Multifunctional? Brilliant!
Need one piece of cookware for different stages of the cooking process? Then just use the same one twice instead of two different ones. Whether it's a knife, mixing bowl, or cooking spoon, simply rinse it off on the go and reuse it. By the end, the amount of cookware that's left to clean will be substantially less.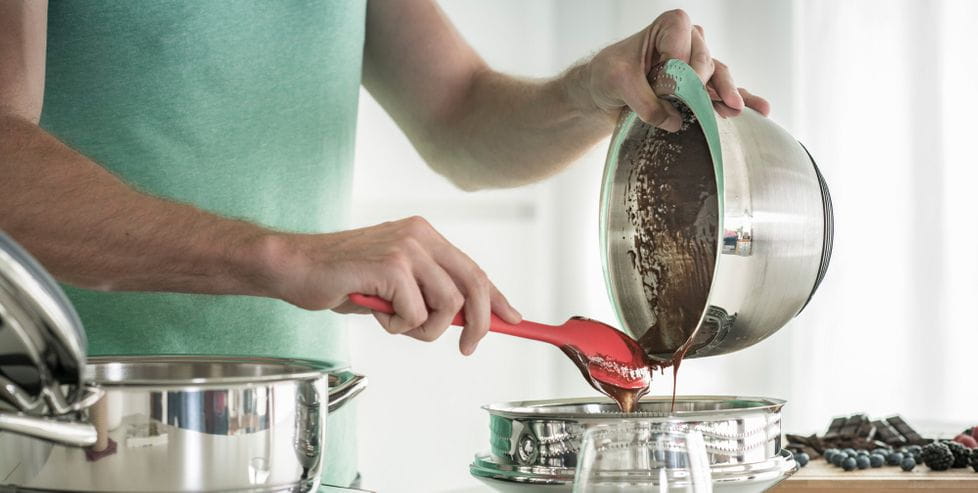 Tip No. 3: Soak Early
Vegetables, meat, and more can end up burning—regardless of who the cook is. Burnt-in stains are particularly stubborn and difficult to remove. Other food leftovers in stainless steel pots and pans should also not be given time to dry: They can create stains and cause the material to change. If possible, it's therefore a good idea to soak the cookware before eating so that you can give it a quick and thorough clean after you're done. A soaking time of 10 to 20 minutes is usually completely sufficient. However, remember that letting your cookware soak for hours in acidic solution-based dishwater is not recommended because it can become damaged.
By the way: With AMC pots and pans, most of the residue usually dissolves when you take the cookware while it's still hot after cooking and place it directly under cold water.

Caution: You should only do this if you have not used any oil or fat while cooking!

Tip No. 4: Careful Usage and Cleaning
If you have stainless steel pots and pans, you should be careful with certain cleaning products and foods. In other words, try to avoid cleaning them with aggressive detergents, scouring agents, and very rough sponges or brushes, as these can damage your stainless steel cookware.
But it's not just strong cleaning agents that can do a number on your pots and pans. Some foods can also attack their material:

Salt: Add salt to soup and pasta water only after it's come to a boil. High-sodium foods (e.g., cured and pickled products, canned goods) also shouldn't be stored in stainless steel pots.

Acid: Foods that contain a lot of fruit acid (e.g., rhubarb compote or tomato sauce) should not be stored in stainless steel pots.