Picnics: a special way to enjoy an outing in nature
What could be nicer than spending a lovely summer day in the great outdoors? Whether you're cooling off by a lake, hiking in the mountains, or simply lounging in a meadow in a public park – a picnic is an especially easy way to enjoy a meal outside on a stunningly beautiful day. Picnicking combines two of the best things in life: delicious food and spending time in nature.

As early as the Middle Ages, travelers had to bring their meals along with them and eat outdoors when there were no taverns nearby. On hunting trips, meal breaks were often held outside, and agricultural workers were also known to enjoy their lunches in the fresh air. The exact origin of the term "picnic" remains unclear to this day. French linguists believe that it comes from the words piquer ("to stab or steal") and nique ("trinket").

Even today, picnicking is a popular pastime. Whether it's a romantic meal for two, a family affair for the kids, a big group of friends or even a solo diner – the feeling of freedom is irreplaceable for anyone. A picnic is a wonderful way to enjoy a meal together in an outdoor location and out in the fresh air.

But before you grab your blanket and basket, you'll need to make a few preparations. Read on to find out how to plan a successful picnic.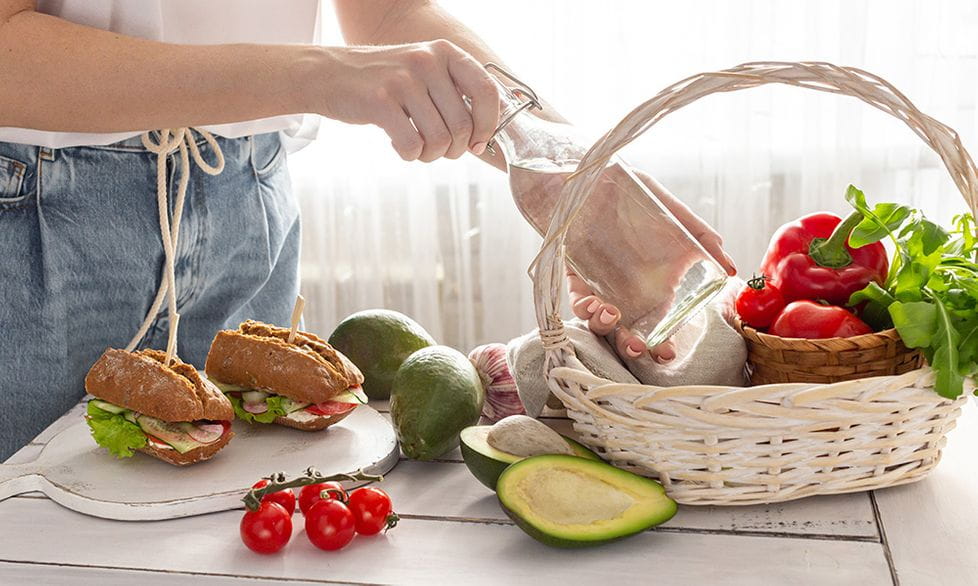 Tips for preparing the perfect picnic
Good planning is half the battle! In order to ensure that you have everything you'll need for your picnic, we've assembled a list of useful tips to help you enjoy your outdoor meal to the fullest.

Choose the right spot for your picnic: Whether you're out on the road on an excursion by bike, headed to a lake or even simply relaxing in your own garden: Make sure that you select the right spot for your meal; if you're already out and about, check whether you're allowed to picnic in that location. One thing ought to be obvious: Picnics are only enjoyable when the weather is good – and dry!

Stay cool! On very hot days – especially if you're planning to stay outside for a long time – you absolutely must bring a cooler along. That's the only way to keep the delicious foods and drinks you've brought for your picnic cool.

No blanket? Forget it! A spacious picnic blanket keeps everyone comfortable and is the only way to attain that genuine picnic atmosphere.

Keep it simple and practical: To enjoy your picnic in comfort, make sure to bring non-breakable (preferably reusable) dishware with you. Don't forget cutlery and plates! And it's best to bring plenty of paper towels too.

Respect the environment: Picnics often produce a lot of garbage. So make sure to bring supplies such as a garbage bag to take your trash with you – it's important never leave anything behind when you're out in nature!

Remember to bring sunscreen: You might find yourself spending a long time out in the sunshine, so make sure to pack some sunscreen!

Bring entertainment: Frisbee or badminton, or even a round of cards, are great ways to keep people entertained during a picnic. Bring a portable Bluetooth speaker along for some background music.

If the food's good, we're all happy! The most important part of a picnic is the food, of course, and you'll need to prepare it beforehand. Keep reading to learn more about which snacks are suitable and which recipes we'd recommend most for your picnic. And refreshing beverages are a must for a warm day – that goes without saying. If you have the right picnic basket to carry everything with you, then you're all set to go!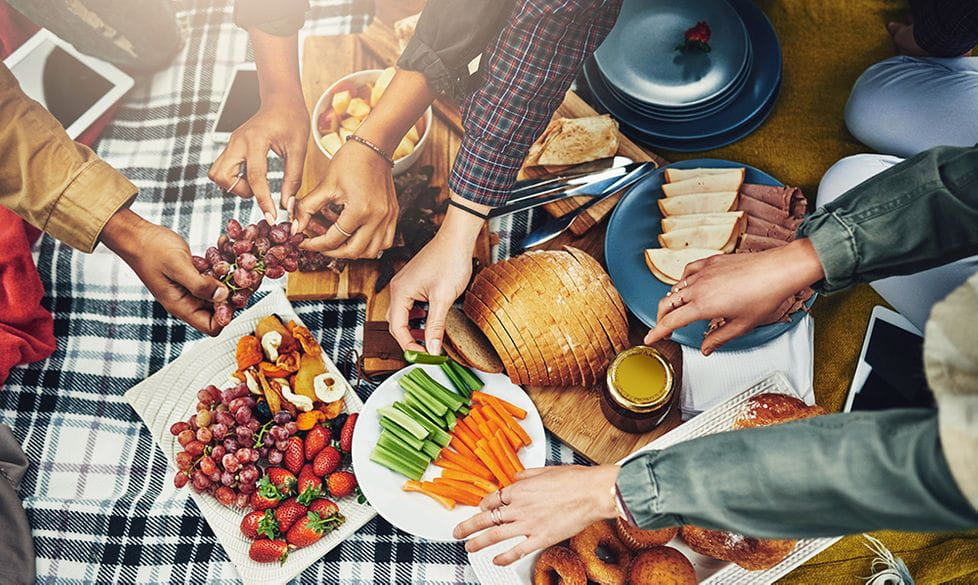 Eating outdoors: Here are some great picnic recipes
Not every dish is suitable for a picnic. Generally speaking, you should focus on finger foods, sandwiches and light salads. These types of foods are portable and easy to prepare. Pre-sliced bread with cheese, cold cuts, or homemade dip works too. Hummus isn't just delicious – it's also simple to make. Use AMC's quick cooking lid Secuquick softline to speed up those chickpeas with the Turbo cooking program.

Bring fruit along for a sweet treat: However, it's best to focus on fruits with a peel that won't be easily crushed, such as pears, grapes, etc. And don't forget dessert. We recommend baked goods that aren't too fragile like cookies, muffins, or brownies. Alongside savory or sweet treats, it's important to remember to bring a refreshing summer beverage or two. Chilled water is essential, while homemade lemonade or another fruity drink is also a great idea for a picnic – or even a bottle of sparkling wine.

Have we gotten you into the picnic mood? Just follow our tips and you'll be totally prepared. Lacking inspiration for delicious, easy picnic recipes? We'll share some delightfully yummy picnic recipes here (just scroll down to read!). Whether you're with your friends, kids, partner or on your own – a relaxing picnic with delicious food in the great outdoors sounds just about perfect right now. Have fun!